In the week from 18th February 2023 to 24th February 2023, the high school G. Marconi in Catania will host the Spanish students and teachers of high school les Castilla in Guadalajara.
This is the first Erasmus of the high school Marconi, the goals of this project are:
Exchanging and sharing european cultures
Opening and widening horizons
Enhanching new possibilities
Promoting new friendships around the world
Here is a diary of our Erasmus project:
Saturday 17th & Sunday 18th February 2023
The arrival in Italy was at 00:10 at Fontanarossa airoport in Catania. Two long days before the first day of school in Italy. Finally the student of the two countries can know each other waiting for the school activities on Monday.
During the weekend we felt like we always knew each other, immediatly estabilisling a friendly and sympathy relationship.
We did visit the most popular place of movida in Catania, such us Duomo Square and Aci Castello city.
Monday 20th February 2023:
Our first school morning started as a quite regular morning in Spain, we woke up to go to school, we got ready and had breakfast at home. We came to school with the expectatives of learning how they study here. Once we arrived, we had a very warm welcoming and we did a tour around the school to get to know it. Then we joined an interview at the school Web Radio.
Tuesday 21 February 2023:
On our second day in Catania we went to visit the beautiful Baroque city centre. We started our guided tour at Stesicoro's square. From there we accessed to Catania underground, ancient Roman historical sites destroyed by the eruption. It was really interesting and amazing. We visited Ursino Castle, Gammazita hell and we could admire the Amenano river flowing beneath Catania. We visited the magnificent Duomo square with the elephant fountain, the symbol of Catania…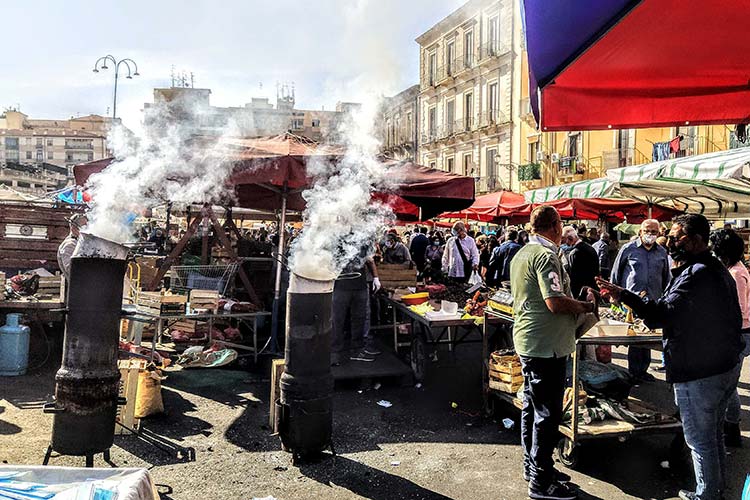 Wednesday 22 February 2023:
Today we went to Taormina. It's a beautiful city with a beatiful see and beach and a beatiful things to see like Greco-roman anfitheatre. I like very much Taormina because our usual landscapes as we don't usually get to see the sea. In the evening, we went to have dinner at a local restaurant to eat pizza. I have to admit italian pizza is better than spanish pizza.
Thursday 23th February 2023:
This morning we went to Siracusa. Here we saw "orecchio di Dionisio" and the old part of the city. For lunch we went to Ortigia where we saw the Diana's fountain and the Duomo's square of Ortigia. After lunch we went for a swim in the sea of Ortigia. It's very beatiful! At night we went to Nicolosi for a party where we were given roasted horse meat, sausages and bruschette. This was unusual as we don't eat horse meat in Spain. The Italian food is very good!
Friday 24 February 2023:
Today is our last day in Sicily, we will be staying at school doing various activities like ITC and Math lesson. The band of the school played the Spanish and Italian national anthems. We obtained an certificate of partecipation. The band is very crazy, they made us dance with Italian, Spanish and International song. Later the student and the teacher of Marconi organizzate a little break, very little…I miss Sicily.